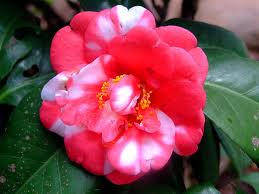 Camellia japonica 'Gigantea'
Camellia japonica is a slow growing, broadleaved, evergreen shrub, which may grow to a height of 25 feet, but more often to 6 to 12 feet. It has a spread of 6 to 10 feet. The glossy dark-green, leathery leaves are 2 to 4 inches long. The flowers, which range in color from white to pink and red, are 3 to 5 inches in diameter and bloom from late winter through early spring.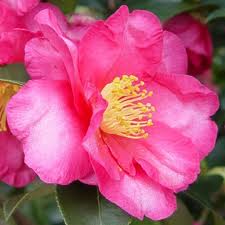 Camellia sasanqua 'Kanjiro'
Camellia sasanqua tends to be more open, have smaller leaves, and usually small, single blooms in the fall. Camellia sasanqua varieties are normally faster growing than Camellia japonica.