Up Coming Club Events
Saturday, March 18: Tour of Smith Garden

This is a private garden that runs through the block on a crowded street. For this reason, please plan to meet at 10:00 a.m. at Judy's house, 334 Devane St., Fayetteville NC 28305, so that we can combine cars for the trip.

Saturday, April 22: Old Stage Nursery

Plan to meet at the nursery at 10:30 a.m.

It's quite large and has many different plants at great prices. Go through at your own place, but plan to meet back together at noon to go to the restaurant for lunch.
Please note the address carefully - there are several nurseries in close proximity to each other, owned by members of the same family, so it can be confusing! The correct address is:
Old Stage Nursery, 7181 Old Stage Rd N, Angier, NC 27501

There is a large tree near the entrance, and a small sign at ground level pointing to Old Stage Nursery.

Lunch will be at:

Stephenson's BBQ, 11964 NC Hwy 50 North, Willow Spring, NC 27592

Sunday, May 7, 1:00 p.m.: End of year Picnic and Auction

This year it will be held at Cape Fear Botanical Garden in the ground level pavilion behind the main building.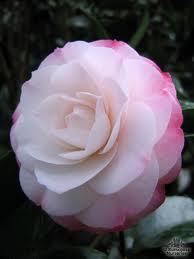 Our Mission

The Fayetteville Camellia Club is a self-sufficient membership society. Through the years, the club has followed its original purpose: "To stimulate and extend appreciation of camellias and to encourage and support the science and art of camellia culture."
Monthly meetings feature guest speakers who focus on different aspects of camellia culture, as well as other gardening topics of interest, enabling club members to increase their overall knowledge.
Through the annual spring Fayetteville Camellia Show, many new people are introduced to the beauty and variety of camellias. Club members are available to answer questions and give recommendations for camellias that grow well in this area. Members' enthusiasm, friendliness, and willingness to find answers for all questions make it easy for newcomers to feel at home at the show, and in the club. Come and join us in our mission!
Camellia Tidbit

Camellia wood is among the densest on Earth producing wood that is far denser than the Live Oak tree, whose life span is about one third that of the camellia. The wood from the Camellia is known for it's luxurious color and it's fine grains which gives it a very smooth feel.

OFFICERS

2021-2022
President
Judy Capps

Vice President
Jeannie Roppoli

Recording Secretary
Ursula Monroe

Corresponding Secretary
Anita Dais

Treasurer
Catherine Kubeny
Email us @